Bigme
Bigme X6 13.3 digital note with English
Regular price
$1,278.00
$0.00
Unit price
per
The 13.3-inch ink screen is comparable to the size of A4 paper. It is broad enough for both office and reading. It can perfectly present all kinds of documents with complicated layout.
Larger space, more comfortable reading and office
The X6 octa-core 2.3GHZ super chip and super large capacity create a more comfortable experience for reading and office. It is not only faster, but also has a larger capacity. You can install as many as you want. Double open documents and double notes on the large screen. Four split-screen modes, including dual-open translation, are more efficient and convenient.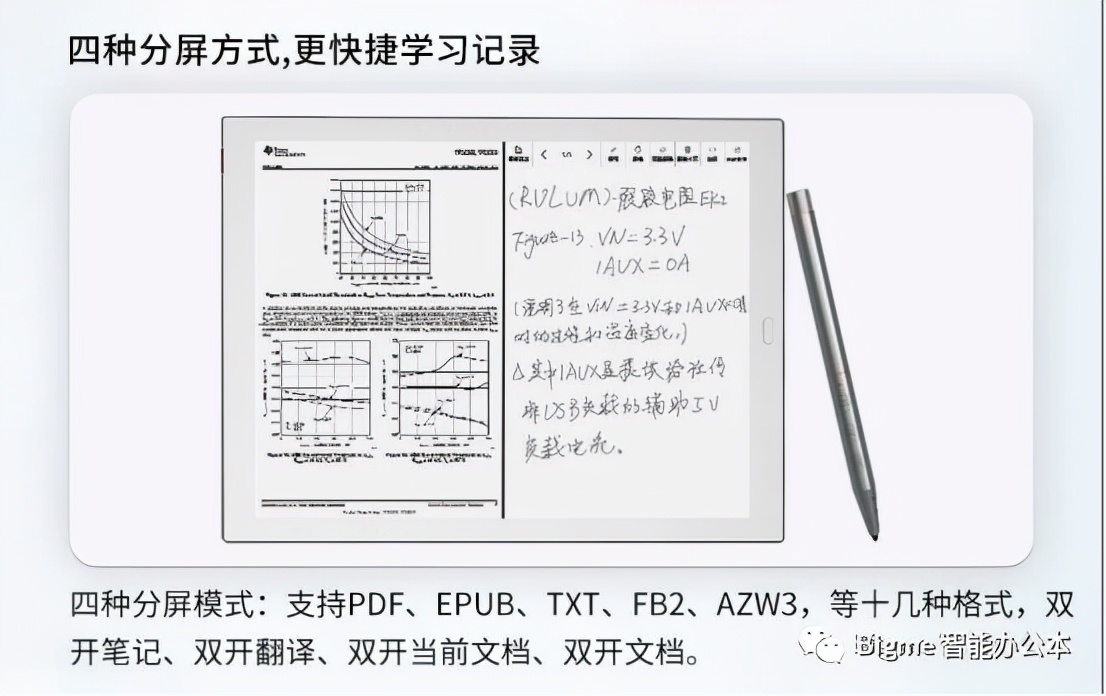 Smart office is more powerful and efficient
As Bigme's first 13.3-inch smart office notebook, X6, equipped with the most powerful configuration combination, it can be called "invincible". The inherent intelligent office attributes of the B1 series-AI artificial intelligence, voice transcription, role separation, handwriting to text, paper-based writing, eye-protecting reading, full-format handwriting, real-time transcription of 27 national dialects, and more than 20 multinational languages ​​around the world Naturally, there are many functions such as fast mutual translation, one-key screen projection, WIFI, Bluetooth, cloud reading and writing APP, and multiple book transmission methods, but the performance has been unprecedentedly enhanced.
Smart Office-Voice to Text
Voice-to-text is to automatically record the meeting process and automatically convert it into text during a meeting, reducing the time and effort of entering the content of the meeting during the meeting, and at the same time, it does not cause the omission of the meeting content. Voice-to-text is the main highlight of Bigme smart office, and the X6 experience is even more outstanding. Excellent voice noise reduction technology, dual microphone voice array, so that the accuracy of voice-to-text is as high as 98%, and there is no need to worry about missing meeting content.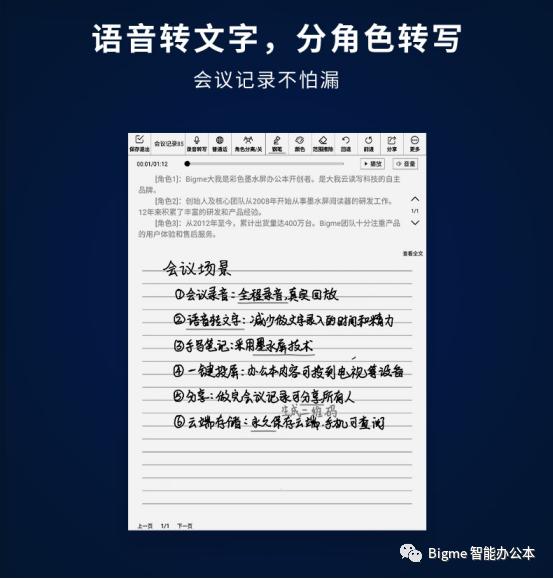 Real-time translation between transnational languages ​​is more accurate and efficient
Voice-to-text supports more than 20 transnational languages ​​including French, German, Russian, Spanish, Japanese, and Korean. You can communicate with foreigners without having to worry about foreign languages. The powerful voice translation function of X6 can realize fast real-time translation between more than 20 transnational languages ​​around the world. It can also translate while recording. It is accurate and more efficient in real time, and there is no need to worry about language communication barriers.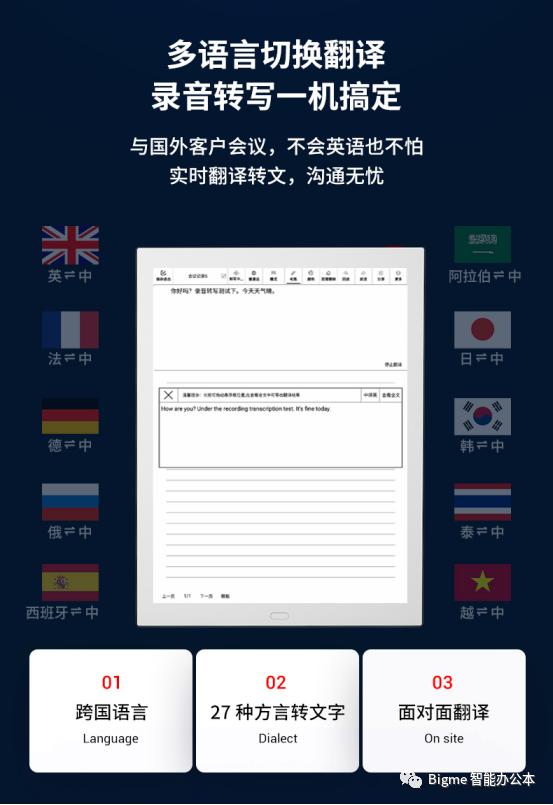 Accurate transliteration of 27 dialects across the country supports role separation
X6's powerful voice-to-text function also supports real-time and accurate transcription of up to 27 dialects across the country. At the same time, it supports role separation and intelligently distinguishes different speakers, which is easy to organize after the meeting.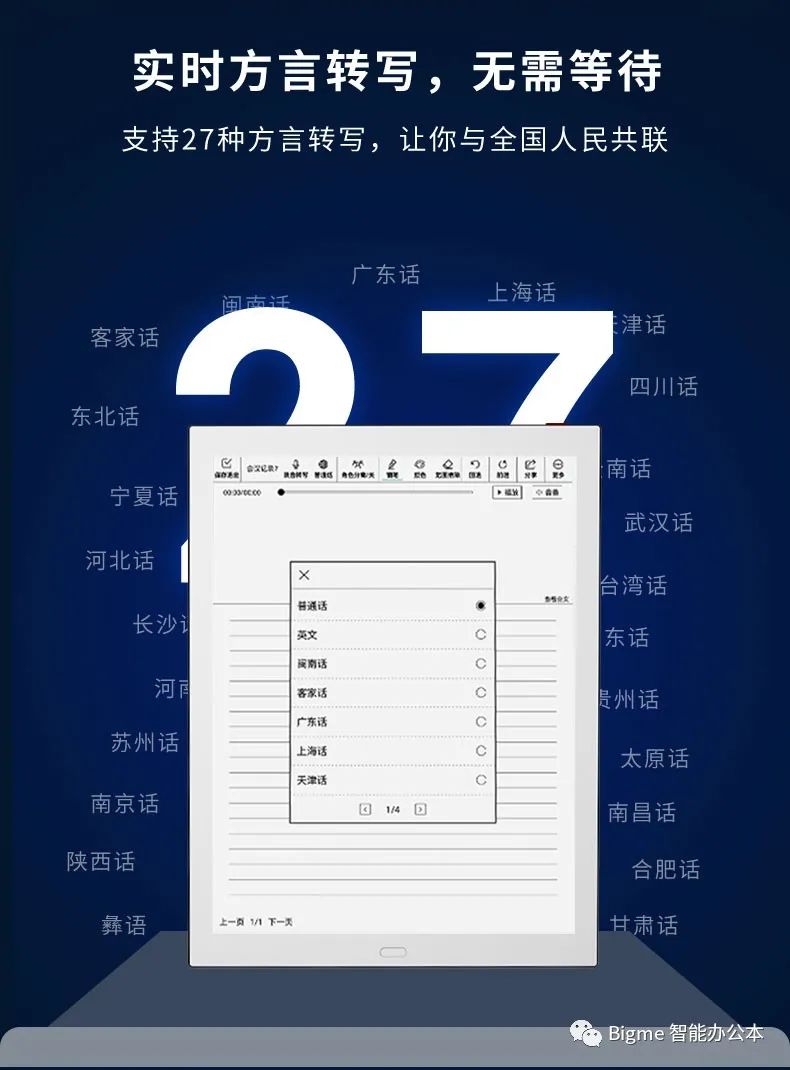 Smart office-handwriting to text
Handwriting-to-text is a supplement of speech-to-text, which can effectively supplement the shortcomings of speech-to-text. X6 can quickly and automatically convert handwritten content into text, and export files in various formats such as TXT and PDF for easy editing, Query and management.
Cloud storage is more secure, meeting records are not afraid of losing
X6's built-in 128GB memory supports uploading files to the cloud. Once important files in the office are accidentally lost, they can be retrieved in time. There is no need to worry at all, so that information security is more secure.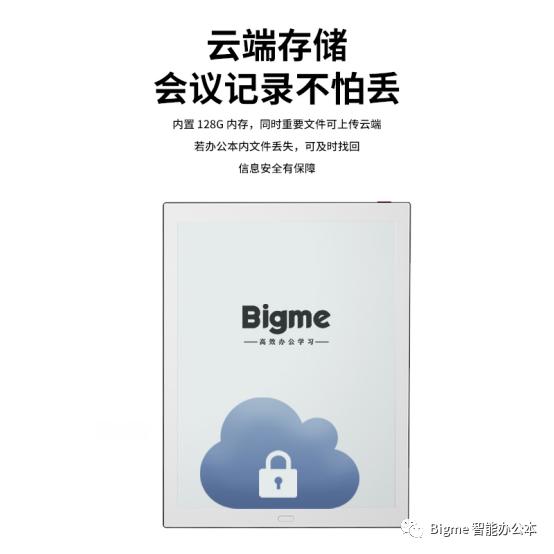 Quickly share meeting content, simple operation and more convenient
X6 can quickly share meeting content. It can generate a QR code, a quick sharing method suitable for everyone, and can also realize quick sharing between Bigme smart office notebooks and smart office notebooks through verification codes. The operation is simple. It is more convenient and conveys the "spirit of the meeting" in the first time. X6 also supports 4G mobile network (2GB per month within 2 years) and 2.4/5G WIFI, making sharing more efficient and convenient, and sharing can be completed quickly anytime, anywhere.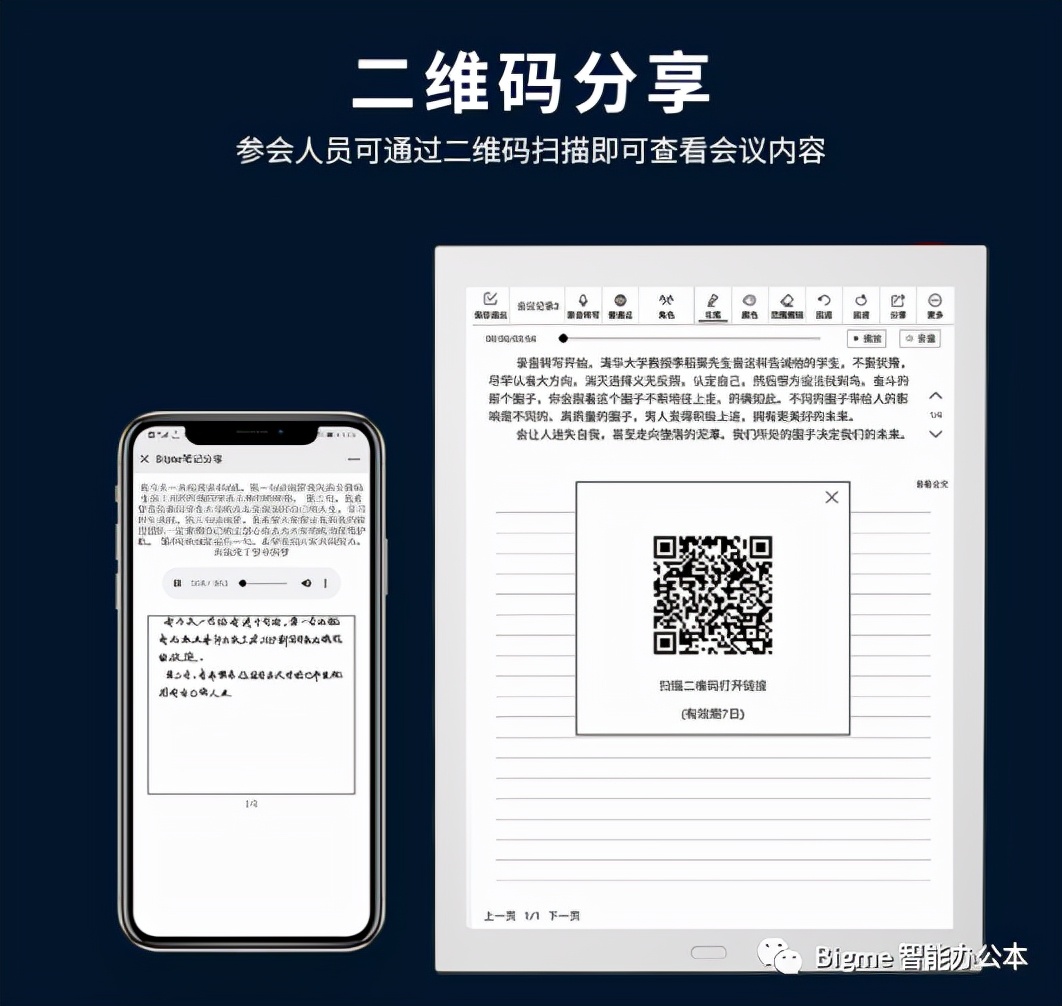 Multiple encryption, safer and more efficient, worry-free office
X6's powerful encryption function provides comprehensive multiple protection for file information, etc. It can not only perform fingerprint recognition and encryption on the X6 machine itself, but also support folder encryption and encryption of internal files. Multiple encryption protections ensure safer upgrades.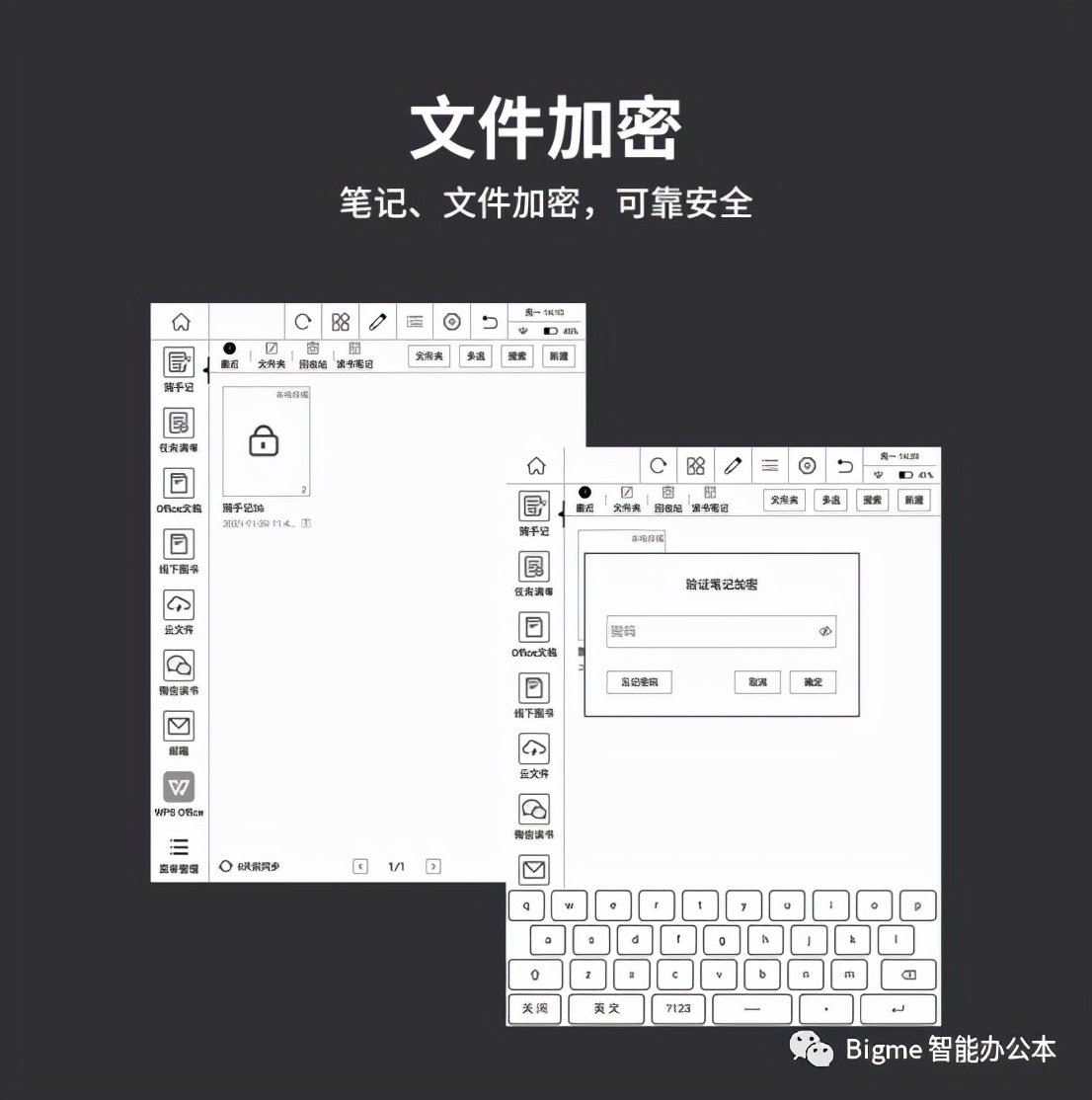 Fingerprint recognition exclusive noble 4G traffic will be given monthly within two years
X6 uses super fingerprint recognition technology to escort the privacy of users, exclusive and noble experience, no need to worry about the theft of important information files, etc., fingerprint technology accurately recognizes, peace of mind. X6 supports 4G mobile network at the same time , giving away 2GB of data per month within two years, allowing you to quickly turn on the network even where there is no WIFI.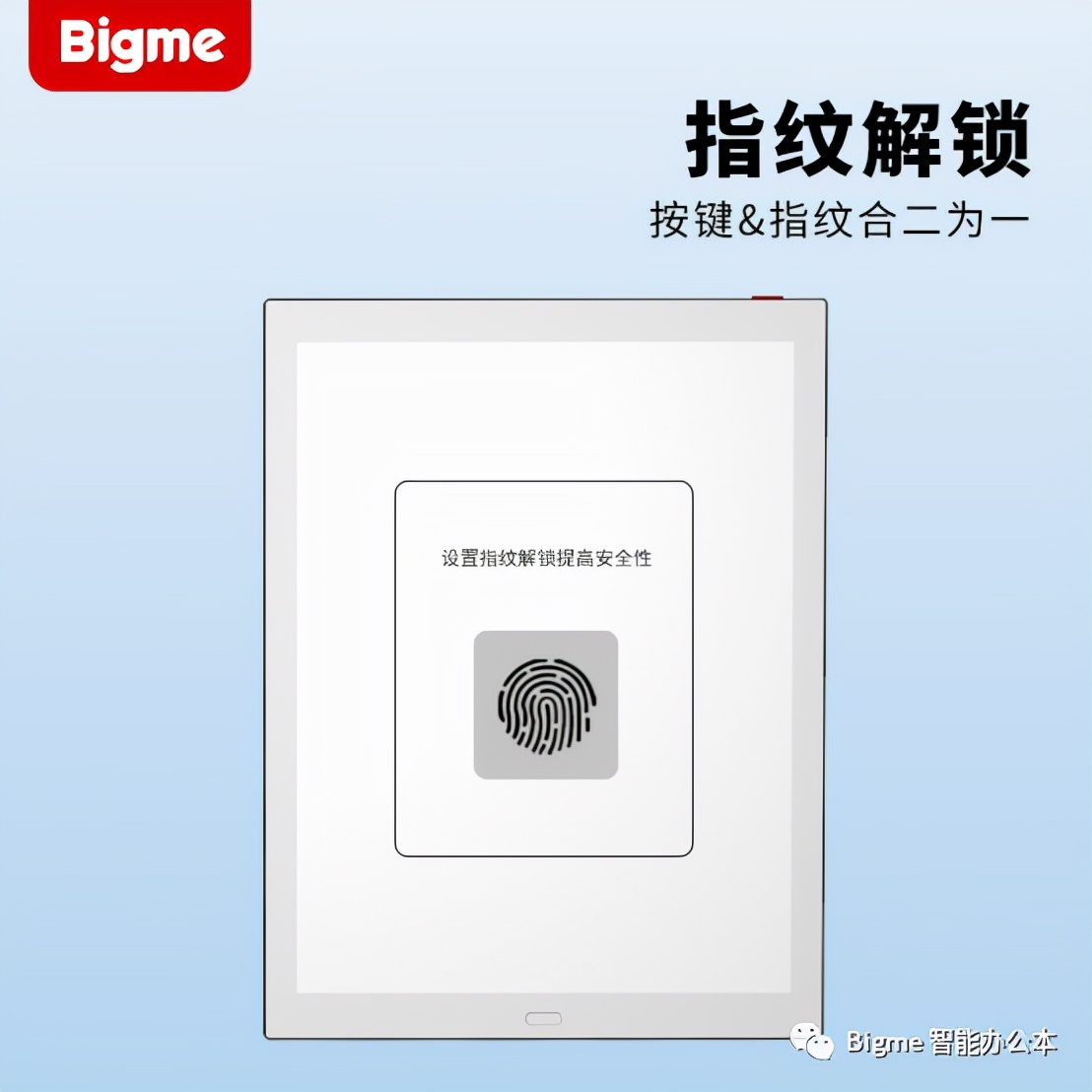 Smart office-magnetic smart remote control pen
It is also equipped with Bigme's exclusive magnetic smart remote control pen, whether it is handwriting or remote voice control, it can be retracted freely. For example, page turning, sleep wake-up, front light switch and custom button functions can all be easily completed by the smart remote control pen. At the same time, you can also enter the voice remote control mode with one key, including new meeting minutes, hand notes, opening APX6P, screenshots, etc. It is very convenient. The smart remote control pen can be directly attached to the leather case when it is not in use.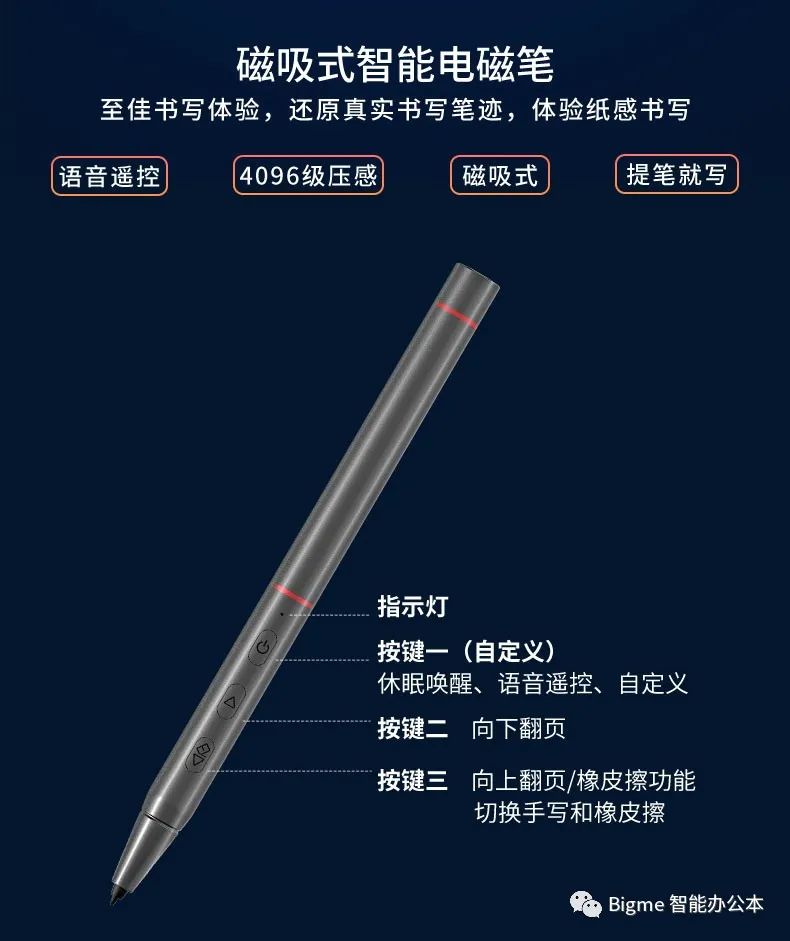 Global handwriting patent technology perfectly realizes the smooth writing experience of third parties
X6 also supports the global handwriting function, which perfectly solves the writing fluency problem on third-party apps (such as OneNote, Evernote, Youdao Note, Office, etc.). It can truly write with the pen, smooth and free, and extremely follow the hand, just like in Bigme's own writing application is the same as handwriting.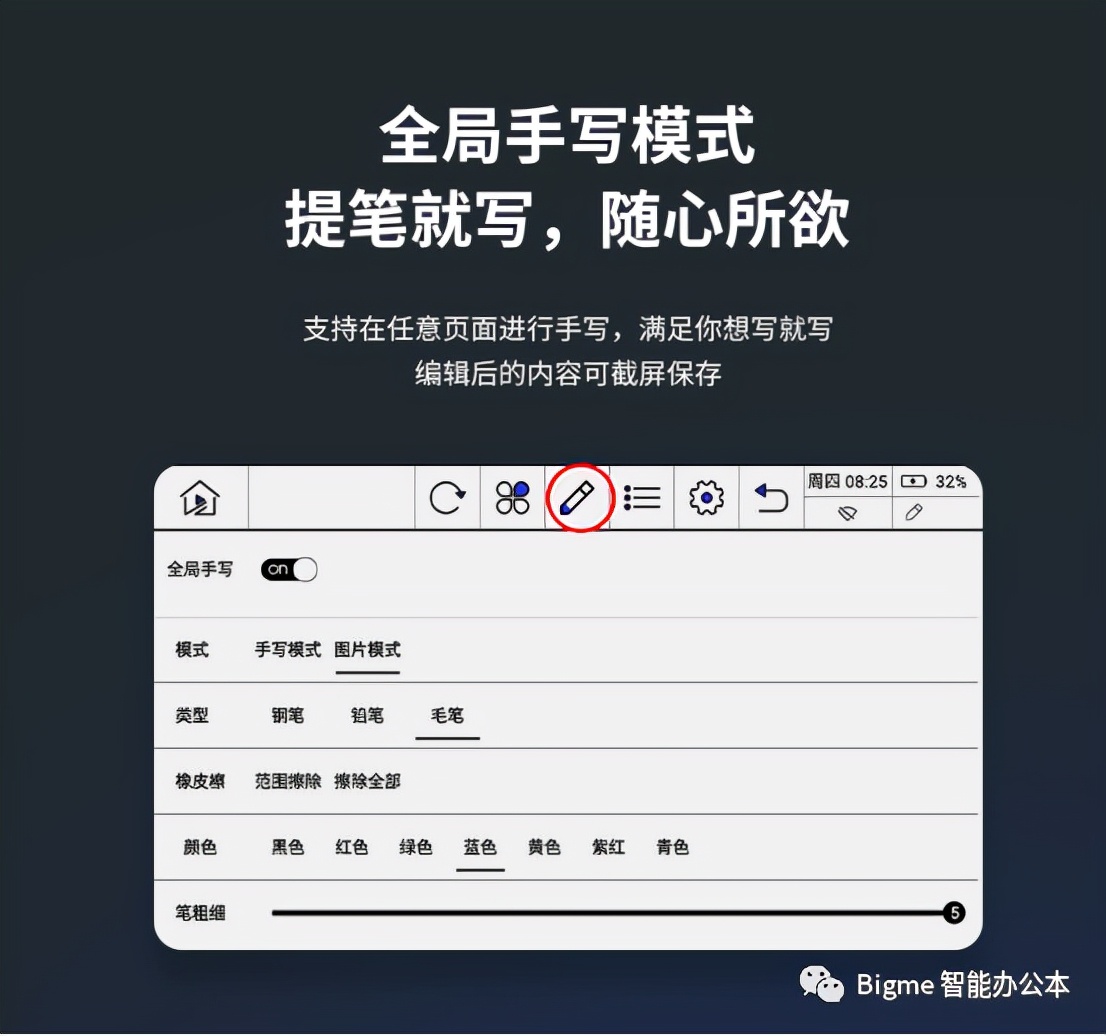 Full format handwritten complex typesetting documents are easy to get
Full format handwriting, X6 also supports handwriting in more than a dozen mainstream formats such as PDF, EPUB, TXT, FB2, AZW3, etc., and take notes and make comments. For professional-level and complex documents, with large layouts and complex layouts, X6 easily supports the original presentation of multiple formats, enjoying the "original" reading pleasure and higher efficiency.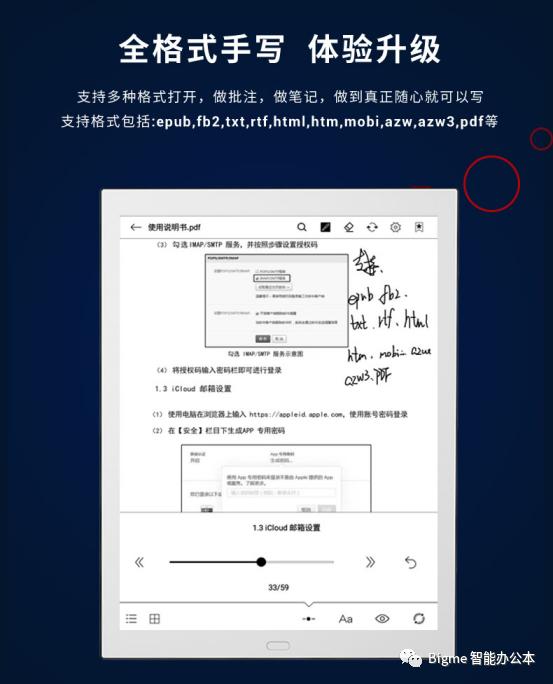 Massive high-quality book application Android11 ​​open system installed as you want
X6 Android 11 custom open system allows users to install a large number of books and third-party applications at will, such as WeChat reading, JD reading, Kindle reading, multi-reading reading, palm reading books and other reading software and third-party applications, which are not a problem , The large capacity of 6+128GB also supports the additional expansion of OTG to the extra large capacity of 128GB, so you are no longer afraid of running out of space and resources. You can install it whatever you want.
in conclusion:
X6 is Bigme's first 13.3-inch large-screen smart office product. The powerful configuration combination allows X6 not only to perfectly inherit all the functions of the B1 series, but also to make a breakthrough in performance, faster, stronger and more domineering! The combination of octa-core 2.3GHZ and 6+128GB super storage, equipped with the latest Android 11 open system, makes X6 far ahead among many smart office notebooks. This is X6! With X6 in hand, meet a stronger self!
For more choices, lock the Bigme smart office notebook with eight arrows, from 7 inches to 13.3 inches, from quad-core to eight-core, from 2+32GB to 6+128GB, from black and white ink screen to color ink screen, Carve, Carve Color, B1 Max, B1 Lite, B1 Max+, B1 Max+Color, PocketNote, X6 and other eight new products have everything they need. The original text of the Eight Arrows is as follows, hurry up.
---
Share this Product
---