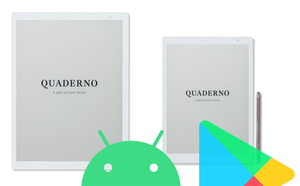 Good e-Reader Store
Gen 2 - Fujitsu Quaderno A4 and A5 Android 9 and Google Play Unlock
Regular price
$408.00
$408.00
Unit price
per
Good e-Reader Unlock Service for 2nd Generation Fujitsu Quaderno A4 and Fujitsu Quaderno A4.
Android 9.0
Google Play and Play Services
New App Drawer
You won't lose any core-functionality
Introducing the Good e-Reader Fujitsu Quaderno ANDROID Unlock Service for the 2nd generation model. The Quaderno A4 and Quaderno A5 both run Google Android 9 as the primary operating system. This unlock system provides a new menu entry with the ability to download and install apps via Google Play! You can then download any free or paid app and install it on the Quaderno. You will not lose any of the Quaderno's existing functionality. Everything will remain the same, other than the ability to install apps.
This new service cannot be installed remotely. You have to send your existing Fujitsu Quaderno A5/A4 2nd generation to us and we will unlock Google Android 9.0 and Google Play.
---
Share this Product
---
Liquid error (templates/product line 6): Could not find asset snippets/aio_reviewform.liquidLiquid error (templates/product line 6): Could not find asset snippets/aio_reviewlist.liquid